---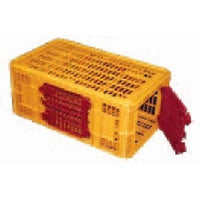 This is the largest capacity and height coop offered on the market today. The Coop-15 also offers the highest level of durabiliy necessary for the transportation of large fowl.
Features:
introduces this new supersized coop ideal for turkey,
duck and very large poultry.
It is a full 16 1/2"H x 39"L and 23"W or 38 x 99 x 58.4 cms.
Ideal for 4 to 8 mature turkeys.