---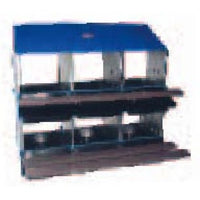 The 6-Hole Roll-Out Nest is the only of its kind available on the market. This nest meets the needs of our customers with smaller pens and operations that do not require larger nest models. This unit combines quality and functionality at an affordable price.
Features:
Heavy-duty plastic perches and nest bottoms

Eggs safely roll down the the front of the nest for easy collection

Incorporate the use of our plastic nest pads and make a completely sanitizable unit

Roll-out bottom dramatically reduces egg breakage

Durable construction enables nest to provide multiple seasons of trouble-free use

High front and back panels to eliminate scratching of litter out of nests
Utilization of plastic perches and nest bottoms eliminates the harboring of lice and bacteria commonly found in wooden perches of competitive brands.
Dimensions: 36"L x 12"W x 34.5" H
Shipped \"knocked down\" for lower transit costs.