---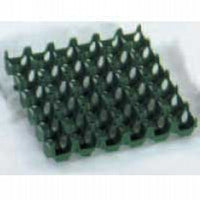 Plastic Egg trays used for replacement in Robbins, Natureform and many other type incubators. The Model R5X6 Plastic Egg Tray and the R4X5 Turkey or Duck Tray, the PET-46 ST and the Q-95-ST Quail Egg Tray all have the same outside dimensions and all are interchangeable. They occupy a space of 11-3/8" x 9-3/8" or 28.9 x 23.8 cms.
NOTE: Please be sure to check the head room space between trays in your incubators for the R4X5 to make sure of the clearance. They are normally molded in Robbins or Natureform_s green color. Special colors on many models can be made in large quantities.
The dimensions of the R6X6 are 12-7/8 x 12-7/8" or 32.7 x 32.7 cms. They are not interchangeable with any of the other trays.
Features:
No. R4X5 20-EGG PLASTIC TRAY FOR DUCK,
TURKEY OR PEACOCK EGGS.
Packed 25. Shipping Wt. 10 lbs.