---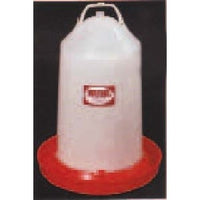 3-Gallon Plastic Fount Is now introducing a new, revolutionary 3-Gallon fountain that is ideal for a variety of uses. This fountain utilizes the twist-lock style of connection which creates a sure-grip environment that completely eliminates leaking.
 Features:
The P-23 Plastic 3-Gallon Fountain is also equipped with a heavy-duty nylon handle allowing the user to safely carry the entire unit from it. Being comprised of plastic, this unit will not rust, rot or corrode. This unit is also very easy to clean and will not develop the strong smelly taste that transpires from metal galvanized models.
The NO. P-23 Plastic 3-Gallon Fountain has been specifically designed with no seams to insure a leak-free unit. This is by far the best manual style fountain currently offered on the market today.