---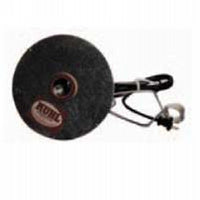 This new egg candler has been redesigned to give much better reflection. It is highly polished aluminum and far improved over the old candler as it has a snap switch and a clamp-on swivel fastener. This clamp can be attached and positioned to just about anything. If clamp is not desired, then the clamp can be flattened out and stapled to a wooden base so it has much flexibility as well as improved candling over the old model.
Features:
For use with a 75 or 100 Watt bulb.
No. FRZ-210C New Model Jiffy Way Candler
Packed 3. Shipping Wt 5 lbs.