---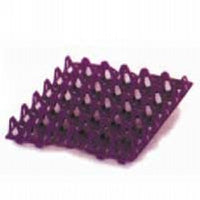 Quantity 4 sanitizing tray Designed for washing, sanitizing, or disinfecting eggs.
This tray has openings in the cones which allows for much better circulation of water or air. It's by far our most popular model.
THE PICTURE SHOWN IS NOT THE ACTUAL TRAY. IT WILL COME IN ANY COLOR WE MAY HAVE. YOU CAN CALL IN ADVANCE TO SEE IF A SPECIFIC COLOR IS IN STOCK. It has heavy walls and is the strongest of our trays.
Features:
NO.WAS-30 30-EGG PLASTIC EGG TRAY.
Wt. 20 lbs.
Trays are 11-1/2" x 11-1/2"
Bandejas miden: 29.21 x 29.21 cms